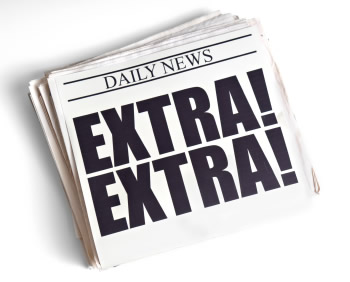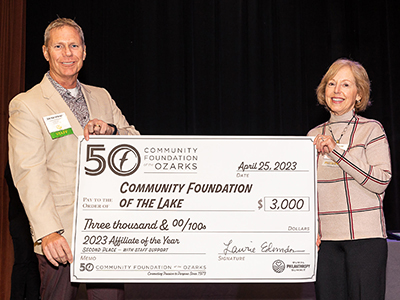 Date: April 27, 2023
Subject: CFO honors regional affiliates, leaders for outstanding service to community
Contact: Aaron Scott, ascott@cfozarks.org; 417-864-6199
Photos: High-resolution images of honorees available at cfozarks.org/summit23photos; additional event images available upon request

The Community Foundation of the Ozarks recognized five individuals and five regional affiliate foundations for outstanding leadership and exceptional service to their communities during the Rural Philanthropy Summit on April 25. Along with the recognition, affiliate foundations received a total of $23,000 to supplement their annual grantmaking to the communities they serve. The awards mark 30 years of the CFO's Affiliate Foundation program, which began in 1993 with the establishment of the Nixa Community Foundation.

Eric Gibson, president of the Community Foundation of West Plains Inc., received the Stanley Ball Leadership Award. Ball, who died in 2015, was the founding president of the Nixa Community Foundation. He embodied the strengths of business, civic and philanthropic leadership working together to enhance our communities. The award is presented by the CFO and Central Trust Company, which manages the Stanley & Elaine Ball Foundation. In Gibson's honor, the Community Foundation of West Plains Inc. received a $2,000 grant.

Bonnie Prigge, board member of the Meramec Regional Community Foundation, received the Fred Lemons Achievement Award. The award is named for the late president of the Lockwood Community Foundation, who demonstrated remarkable leadership during his 15-year tenure until his death in 2014. Presented by the CFO and the Lemons family, the award includes a $1,000 grant to the Meramec Regional Community Foundation in Prigge's honor.

Three regional affiliate leaders were honored with Board Members of Excellence awards for outstanding service to their communities:

Cynthia Glenn, Finley River Community Foundation
Tom Jacquin, Community Foundation of the Hermann Area
Natalie Lorenz, Perry County Community Foundation 

Five of the CFO's regional affiliate foundations were selected as Affiliates of the Year. The awards, with a total of $20,000 in grant prizes, recognize excellence in leadership among the 53-member affiliate network. The affiliates were selected using several criteria: asset growth; new funds established; overall grantmaking and new Legacy Society members for the fiscal year that ended June 30, 2022. The selection was also based on examples of community leadership, collaboration and the promotion of planned giving. 

For affiliates led by completely volunteer boards, the winners are:

First Place: Barton County Community Foundation, $6,000
Second Place: Ash Grove Area Community Foundation, $3,000
Third Place: Cape Area Community Foundation, $2,000

For affiliates supported by staff, the winners are:

First Place: Nevada/Vernon County Community Foundation, $6,000
Second Place: Community Foundation of the Lake, $3,000

"For 30 years, our regional affiliate foundations have done so much to improve the quality of life in many communities across our wide service area," said Alice Wingo, the CFO's vice president of affiliates. "Our foundation leaders work hard to build long-term, sustainable resources that will benefit all sectors of a community. With exemplary foundations and leaders like the ones honored today, these 53 towns, counties and regions have bright futures ahead."

The awards capped off the Rural Philanthropy Summit, presented by the CFO and Philanthropy Missouri at the Oasis Convention Center. The event is believed to be the first statewide gathering of philanthropists and foundations focused on the development of rural communities. In addition to the awards, the event featured keynote speeches by Tony Pipa of the Brookings Institution, Caitlin Cain of Rural LISC and Kim Davis of the Walton Family Foundation. Attendees also participated in breakout sessions on digital equity, taking advantage of federal grantmaking, transfer of wealth and planned giving, improving disability access, and collaborative-funding opportunities.

"As anyone who has lived in a small town or worked on a farm knows, we can do so much more and have such a greater impact when we work together," said CFO President Brian Fogle. "We hope this summit will be a catalyst for cross-state conversations and collaborative action that will more effectively address the needs of rural Missouri."

Founded in 1973, the Community Foundation of the Ozarks is marking its 50th anniversary in 2023 as the region's largest public charitable foundation serving a network of donors, 53 regional affiliate foundations and nonprofit partners across central and southern Missouri through its mission of resource development, community grantmaking, collaboration and public leadership.

November 29, 2022
Community Foundation of the Lake Announces $34,000 in Grant Awards for Local Horse & Dog Shelters, Sanctuaries, and Rescue Facilities.


The CFL is pleased to announce grants have been awarded in our 4 th annual grant round earmarked for funding of horse and dog shelters, sanctuaries, and rescue facilities. This grant is available thanks to a field of interest fund created by the Karen Jean Rudek Trust. Karen Rudek was a long-time resident of the area who loved her dogs and horses. Working with her Estate Planner, Karen set up this fund under the Community Foundation of the Lake, where only the interest earned on the principle would be available for an annual grant. She bequeathed her estate to this fund upon her death to support horse and dog care in the local communities of Camden, Miller and Morgan counties. She entrusted stewardship of the fund to the CFL to ensure her long term wishes of animal care were met in perpetuity. The recipients of this generous award are:


• Missouri Forget Me Not Horse Rescue & Sanctuary
• Ivy Bend Animal Rescue
• Caring Hearts Dog & Cat Recue
• Ozarks Kat & K9 Shelter

This annual grant making round will open again next fall and can be found on the CFL website.

L to R: Ashley Silva, Community Foundation of the Ozarks, Amy Hernandez, President, Community Foundation of the Lake



L to R: Lisa Hill, Center Administrator, Lois Grawe, Board President, Jane Wright, CFL Grant Chair, and Jan Amos, CFL Coordinator


L to R: Jane Wright, CFL Grant Chair, Shana Aubuschon, Share the Harvest Director, Sandy Olms, Share the Harvest Treasurer, and Joe Long, Share the Harvest Secretary



Contact Us

Community Foundation of the Lake
PO Box 1413
Lake Ozark, MO 65049

636.219.6892
Info@CommunityFoundationoftheLake.com

Blue Moon
L to R: Blue Moon Board Members Judy Laber, Mary Ann Golden, Lynda Tober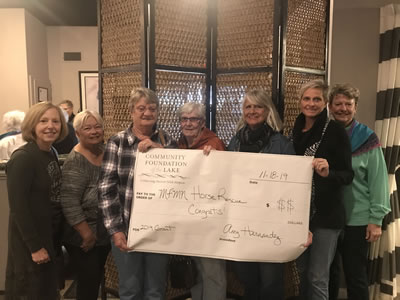 MFMN Horse Rescue
L to R: CFL Grant Chair Jane Wright, CFL Board Member Debra Howard, MFMN Horse Rescue Board Members Virginia Rice & Carol Killebrew, MFMN President Connie Hendrix, MFMN Vice President Donna Ogle, and CFL Treasurer Michelle Zollmann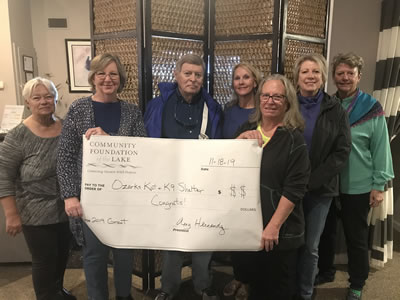 Kat & K9
L to R: CFL Board Member Debra Howard, Kat & K9 Treasurer Cindy Eaton, President Harold Van De Haar, Board Member Margaret Tadlock, Secretary Debbie Cook, & Board Member Joan Willcott, CFL Treasurer Michelle Zollmann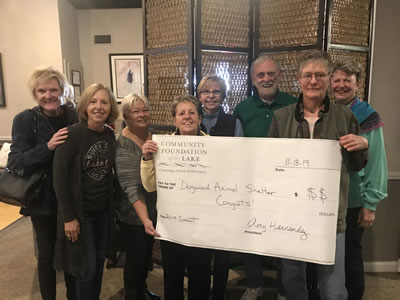 Dogwood Animal Shelter
CFL Advisory Council Carolyn Davinroy, CFL Grant Chair Jane Wright, & CFL Board Member Debra Howard, Dogwood Manager Ellen Keen, Board Members Deb Reefer & Bob Bender, Director Donna Morris, CFL Treasurer Michelle Zollmann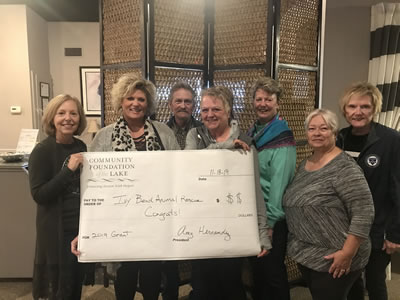 Ivy Bend
L to R: CFL Grant Chair Jane Wright, Ivy Bend Board Member Heather Shrout, President J.R. Bibey, Treasurer Connie Bibey, CFL Treasurer Michelle Zollmann, CFL Board Member Debra Howard, CFL Advisory Council Carolyn Davinroy


Carolyn Davinroy CFL Advisory Council, Bart Schulte & Angie Schuster CFL Board Members, Jane Wright CFL Grant Chair, Karla McDuffey &
Tiffany Maasen CFL Board Members, Michelle Zollmann CFL Treasurer,
Debra Howard CFL Board Member, Amy Hernandez CFL President &
Peter Hernandez Owners of La Roca Club Event Venue, & April Tate CFL Board Member
Additional Photos: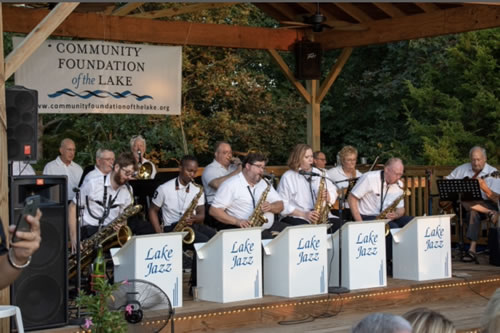 Shakespeare Under The Star Jazz Band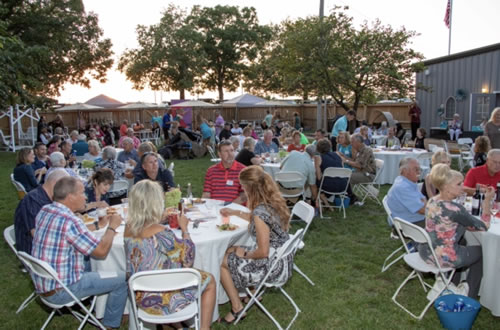 Shakespeare Under The Stars at the La Roca Club




Community Foundation of the Lake Joins with Area Groups

Community Foundation of the Lake Gives Back Locally

The Community Foundation of the Lake, a new way of giving, recently awarded 19 grants to local community nonprofit programs.

The 2018 grant recipients were as follows:

Wonderland Camp for 7 campers to attend summer camp
Big Brothers Big Sisters to sponsor 8 new matches of big brothers and big sisters
LambHouse for the Sue's Shoes program to provide new shoes for those in need
Kids' Harbor for 2 refrigerators and to update kitchen
Food for Morgan City for access ramp to community center
Camdenton School Laser Robotics for 6 Chromebooks for Laser Robotics Program
Westlake Aquatic for swim lessons for children in summer program
Camden City Child Advocacy vouchers to buy socks/underwear and back to school supplies
Lake Arts Council for summer theatre program for children
Osage Beach Senior Center for meals for seniors
Camdenton School Buddy Packs for buddy packs
CADV for rent/utility assistance for victims' housing
Idiot's Club for scholarship and dual credit programs
Concerns for Police Survivors for blue ribbons for Law Enforcement Appreciation Day
Medical Missions for Christ for diabetic management supplies
Children's Learning Center to fund tuition for a child
Stop Human Trafficking to fund the creation of a corporate website
Can-Am Police Fire Games to support the 2018 Can-Am games
Central MO Foster Care for family respite time away

FCA

Amy Hernandez, Marvin Silliman (President), Mary Manning (Secretary), Carolyn Davinroy, Al Greimann, Melissa Carroll (Vice President)

MO Extension -4-H

Amy Hernandez, Trenny Garrett, Marvin Silliman (President), Mary Manning (Secretary), Carolyn Davinroy, Melissa Carroll (Vice President), Thomas Walker

Wonderland Camp

Dick Doherty, Betty Coleman, Amy Hernandez, Marvin Silliman (President), Melissa Carroll (Vice President), Jason Hynson, Carolyn Davinroy, Tony Reahr, Mary Manning (Secretary)

Lamb House

Dick Doherty, Marvin Silliman (President), Trenny Garrett, Susan Hill, Melissa Carroll (Vice President)

Share the Harvest

Dick Doherty, Marvin Silliman (President), Trenny Garrett, Judy Wimmer, Betty Coleman, Carolyn Davinroy

Food For Morgan County

Dick Doherty, Marvin Silliman (President),

John Wagner, Betty Coleman

Rock Island Task Force

Dick Doherty, Marvin Silliman (President), Mac McNally,

Sharon Harms, Mayor Ron Bly, Tony Reahr

Big Brothers Big Sisters


Dick Doherty, Becky Panchot, Tony Reahr, Mary Manning (Secretary)


Medical Missions
Dick Doherty, Marvin Silliman, Joyce King,
Tony Reahr, Mary Manning (Secretary)



Lighthouse Mission
Dick Doherty, Marvin Silliman (President),
Bob Willis, Trenny Garrett, Alison Martin (Coordinator)


Westlake Aquatic Center

Dick Doherty, Marvin Silliman (President),

Lucy Silliman, Trenny Garrett, Brent Simpson

Kids Harbor

Dick Doherty, Marvin Silliman (President), Cara Gerdiman,

Khristina Pahlman, Tony Reahr

CADV

Dick Doherty, Marvin Silliman (President), Jill Wade,

Tony Reahr, Mary Manning (Secretary)

Woman 2 Woman

Dick Doherty, Annette Gilbert, Marvin Silliman (President),

Kim Spangler, Tony Reahr, Melissa Carroll (Vice President),

Mary Manning (Secretary)

Camden County Senior Citizens Center

Dick Doherty, Marvin Silliman (President), Trenny Garrett,

Carol Harper, Tony Reahr, Melissa Carroll (Vice President)

Camdenton Education Foundation

Matt Hamner

,

Selynn Barbour, Trenny Garrett,

Melissa Carroll (Vice-President) Marvin Silliman,

(President), Tony Reahr

2nd Chance Bikes


Dick Doherty, Marvin Silliman (President),

Betty Coleman, Wayne Marlow, Bob White